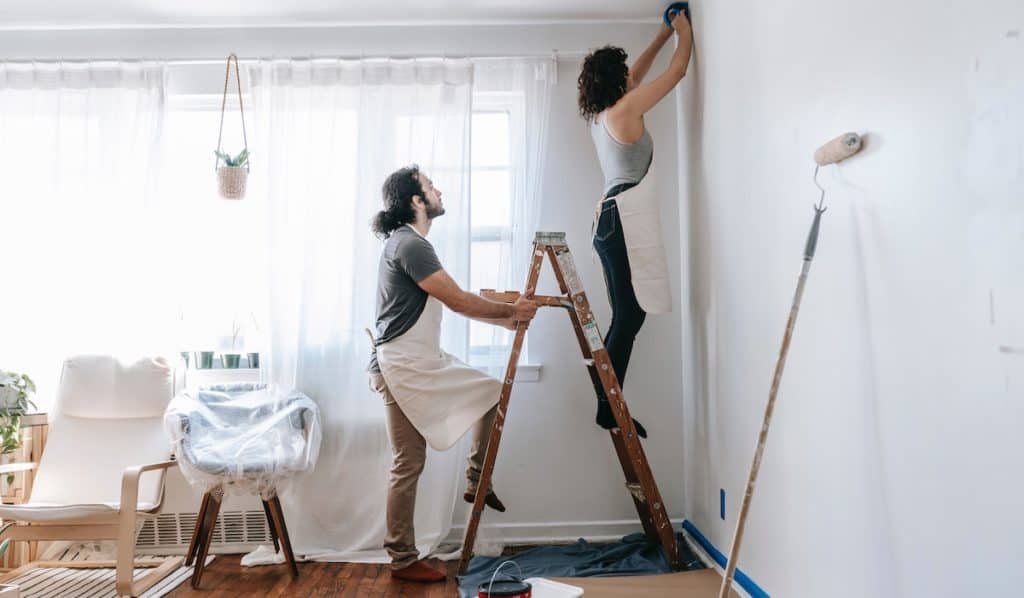 5 Things Not to Fix When Selling a House in 2022
There are a variety of articles that discuss improvements to make to a home prior to selling. However, not many people talk about what not to fix when selling a house.
Whenever you are prepping your home to go on the market, the key is to treat it like an investment. Don't throw away good money fixing things that won't add value or help the home sell faster.
Here are some common reasons you wouldn't fix something before selling a house:
The repair doesn't add any value to the home and doesn't affect it's ability to sell.
The repair is too expensive and won't yield a return worth the investment made in the repair.
The issue at hand won't deter a buyer from purchasing the home even if the repair is not made.
Your Do-Not-Fix list
1) Normal wear and tear
The average buyer spends around 15-30 minutes in a house during a showing. It's a rushed process and they spend the majority of their time scanning rooms and trying to soak it in. Buyers are not likely to catch all the small cosmetic flaws and issues around your house.
Fixing all of these would likely require hundreds if not thousands of dollars. Focus your money and attention on items that are clearly broken and are a significant eye sore.
2) Windows and window accessories
If your home has ugly or broken blinds, you may feel the need to replace them. Instead of spending money on new blinds, just take them down. No buyer is going to decide not to buy your home because there are no blinds. It is not worth spending money and effort on something that will not factor into the buyer's final decision.
Removing your blinds can also bring in more natural light, making the space look larger. The same goes for old curtains and broken or torn window screens. Just take them down and deep clean the window frames and glass. You will be shocked by the difference this small change can make.
Now for the windows themselves. It's very common (especially in Texas and other southern states) to have broken window seals. This can lead to a bit of moisture trapped between the panes.
This is mostly an aesthetic problem and doesn't mean rain or water is coming in through the windows. However, lost seals can mean some level of energy efficiency has been degraded. It can also be a bit of an eye sore depending on how much moisture is trapped.
Broken seals can cost hundreds of dollars per window to fix. The majority of buyers understand this is what happens to windows in hot climates, and is a part of what you have to deal with. The only time I would recommend repairing this, is when it's so bad that you can barely see out of the window and is an obvious eye sore. In this instance, it may be worth repairing or offering the buyer a credit to repair it themselves.
3) Minor HVAC, electrical, or plumbing issues
There is a common misconception that you need to bring electrical and mechanical components "up to code" when you sell a home. This could not be further from the truth.
No home is up to code unless it is brand new construction and subject to your cities most current code requirements. A resale transaction does not require a home to be updated to current code standards.
If your electrical panel, water heater, or A/C system have some age on them, but are working and functioning as they should, leave them alone. Don't spend money updating a working system in the house.
This does not mean you should convey a house that has dangerous electrical or plumbing problems. You are responsible for disclosing latent defects to a prospective buyer via a Seller's Disclosure Notice. However, there is no reason to go digging up problems when everything seems to be working fine.
4) Partial upgrades to bathrooms or kitchens
It can be incredibly expensive to update a bathroom or kitchen. One of the more common things we see are sellers spending large amounts of money to put "lipstick on a pig" and perform costly partial upgrades on these rooms which will add little to no value and end up being a net negative.
You are better off thoroughly cleaning and de-cluttering as much as possible. This gives the buyer a blank slate to work with rather than a half baked remodel with choices the buyer would often times never make themselves.
Either do a complete re-model and make the room look perfect, or leave it as-is and let the buyer handle the work with their own vision. The middle-ground usually ends up costing you a good chunk of money that doesn't come back in to your pocket at the closing table.
5) Carpet or flooring
Much like the kitchen and bathroom, flooring type is a personal taste that can change from one buyer to the next. If you have older carpet, you are much better off finding a $99 special with a steam cleaning company than investing money into replacing the carpet.
The end buyer of your home may rip it out anyway to put in wood, laminate, vinyl or even a different type of carpet. The only time I would consider ripping out and replacing old carpet is if there is a terrible odor from pets or the stains are so bad that it would deter a buyer from moving forward with the house.
How to decide whether or not to fix something before selling your house
Ask yourself the following questions to determine what not to fix before selling your house:
Will this deter a buyer from making an offer on my house?
Could this cost me more to fix than I'll get back at closing?
Will this cause my house to sell for less than other comparable sales in the neighborhood?
Will this cause my house to sit on the market longer than it should (costing me more money in carrying costs)?
Would the end product be something a buyer would likely still change anyway?
What are some fixes I should make prior to selling a house?
Now that we've covered what NOT to fix, let's list some repairs that are worth making before selling your house.
1) Light landscaping to increase curb appeal
I'm not advocating for spending tons of money on huge landscaping projects. However, I am a big fan of cost effective yard work that adds curb appeal.
Pulling weeds, mowing, laying a few squares of grass, adding fresh mulch, planting inexpensive plants or flowers, and trimming back overgrown foliage are all relatively inexpensive changes that can go a long way to improve the curb appeal of your home.
2) Neutral paint
If your home is full of bold colors that could be off-putting to potential buyers, then you may want to consider investing in neutral colored paint. An off-white or light grey color is rarely going to steer you wrong.
Stay away from dark, solid colors that could be off-putting to potential buyers. The idea is cater to the masses. Remember, the goal is to attract the most people possible. So even if you don't like plain or neutral colors personally, they are the smart choice.
3) Anything glaringly broken
Anything that negatively effects the ability to live comfortably in the home must be fixed or upgraded. Some examples include broken HVAC systems, water heaters, doors, etc. If a buyer can't roll the moving truck in to the drive way, move in, and live comfortably, your house could be un-sellable to a large segment of buyers.
Many times there are vendors that will have pay at closing options. This can allow you to pay a large bill out of the proceeds of the sale depending on their financing options.
4) Outdated light fixtures and fans
Much like paint, a light fixture and ceiling fan typically costs $50-$200 and can be transformative to a room. This is an example of a small investment that can both increase the value of the home and decrease the amount of time the house is on the market.
5) Curtains and Curtain Rods
This may seem contradictory to #2 on the do-not-fix list, but here's why you may want to get rid of the blinds and screens and invest in curtains and rods.
A nice looking curtain rod and light neutral curtains can help cover up older windows that have no blinds or screens. They are also very inexpensive and easy to replace. So you are getting rid of a negative and adding a big positive for a small amount of money.
Showcase potential not perfection
Your home repairs should highlight your home's potential. It can be easy to get carried away trying to polish your home to perfection. However, it is important to remember that you as the homeowner are hyper-aware of your home's flaws.
Make sure you are making improvements that potential buyers will actually notice, and increase the chances of them purchasing your home.
For more suggestions on how to get your home ready for sale, check out our home seller checklist. This will give you a comprehensive list to keep you on track through each different phase of the home selling process.
Hopefully this helps you make the right decisions if you are prepping your house on the market. If you are in Texas, hopefully you are looking at ListingSpark to help you save thousands on commissions to get your home listed and sold.
In this episode of Real Estate Real Fast, James Lipton from Entera talks about scaling in real estate, working with investors, understanding market trends, and negotiating rentals. He emphasizes the importance of focusing on tenant needs first when buying rental properties, using internal rate of return to evaluate investments, building rapport with listing agents, and having multiple targets when investing.
Learn more about the current state of the Texas real estate market and get predictions on what you can expect in 2023. Stay up-to-date on trends and make informed decisions with this comprehensive report from ListingSpark!
Aaron Jistel gives an update on the Texas Real Estate Market in Q1 2023 and recaps the 2022 market noting that it had been affected by a sudden increase in mortgage rates, with sales and home values declining. He provides advice on pricing homes and how to negotiate, as well as what to expect for the rest of 2023.
Get started with ListingSpark today